Garage Cabinets – Metal vs. Wood…Which is Better For My Garage?
A lot of thought goes into making a big purchase such a garage storage system. We dig up all this information that will "help" us make the right decision but also has us more confused than ever. We know there are infinite options for garage cabinets and you're probably stuck in between two options. What is better- wood or metal cabinets? We break them down for you so you know exactly what works best for you and what's worth buying.
Metal Garage Cabinets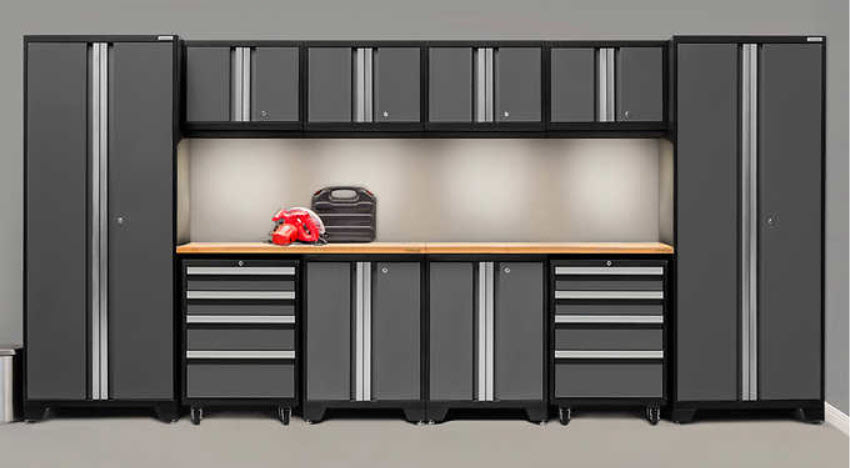 Most brands that sell metal garage cabinets will be made of aluminum, mid-grade steel, or high grade steel. Each of these metal types offers something something a bit different.
Aluminum Garage Cabinets
Aluminum cabinets were originally intended for use inside mobile trailers because it is such a lightweight material. Its resistance to rust, durability, and aesthetic qualities also make it a good candidate for garage cabinets.
The finish on most aluminum cabinets will be anodized. While an anodized finish will increase corrosion resistance and allow a manufacturer to offer more colors, it will not protect the cabinet from scratches or add to the overall strength of the unit.
It is also important to note that aluminum is a soft metal so it will not be quite as strong as steel. All it would take is just the right bump to put a dent in your storage system.
Mid-grade steel garage cabinets
This is the typical metal cabinet you might find at a local big box or department store. Mid-grade steel cabinets can be quite affordable and are readily available.
While mid-grade steel cabinets may have a powder coat finish, they are generally constructed as single wall cabinets. The powder finish will provide protection from minor surface scratches and chipping, but it will still be very thin metal that is quite flimsy.
A prime example of the flimsiness of mid-grade steel is the door. Since there is no mass to a single wall door, when you close it you will likely hear a 'ting' rather than a 'thud'. And that is just the start of it. This sort of cabinet will not be resistant to bumps and dings that could result from continuous use.
High grade steel garage cabinets
Garage cabinets made of high-grade steel will probably be the highest quality cabinets you can get. Manufacturers using high grade steel to build garage cabinets pull out all the stops when putting these units together. Most will use a powder coat finish, heavy duty hardware, and double wall steel construction.
So what's keeping high grade steel cabinets from taking over garages everywhere? Well, with high quality comes a pretty high price tag. The bottom line is that these cabinets will not be in the price range of the average homeowner.
Overall advantages of metal
The great thing about metal cabinets is their ability to withstand the extremes of a typical garage environment. High grade metal cabinets that have a proper finish should be rust resistant. They will not warp when exposed to high humidity or water; nor will they be greatly affected by temperature extremes. Most metal cabinets will also be resistant to various chemicals and impervious to stains.
Overall disadvantages of metal
The biggest downside to high grade steel cabinets is almost certainly the cost. If not for the expense, I would probably have these cabinets in my garage. Aluminum cabinets are also nice, but the absence of a quality, protective finish makes it hard to justify the cost for the garage.
Some mid-grade steel cabinet brands can be cheaper, however, they are probably not of very good quality. Most will be flimsy, single wall, mass produced cabinets. Manufacturers will often use cheap and inadequate hardware to put these cabinets together in order to keep costs low. You can also expect poorly constructed drawers and fewer cabinet choices from most of these brands.
Wood Garage Cabinets
Garage cabinets made with wood can be separated into three categories: mass produced, custom, or built to order.
Mass produced wood garage cabinets
This is what you are likely to find at your local box or department store. Mass produced wood cabinets are generally made of some sort of particle board or plywood and finished with a laminate or melamine. So there will be a variety of colors and styles available with either finish.
But these systems basically amount to glorified closets being passed off as a system for the garage. It will begin to quickly show signs of wear after some use and abuse. The finish does not provide much protection from scratches, scuffs, UV rays, water, chemicals, or temperature extremes.
An upside to mass produced wood cabinets is their affordability. Just remember, you get what you pay for. And with these cabinets you get fewer choices and less quality.
Custom wood garage cabinets
A local cabinet shop or carpenter will be the source for custom wood garage cabinets. The beauty of using a local shop is that you can have a complete custom system built to your exact specifications using a number of natural woods or melamines.
The quality of cabinets from a local shop will, in most cases, be very good. The problem, however, is that you will probably end up with cabinets not fit for the garage environment. As discussed above, laminate and melamine are not good finishes for the garage. And a protective coating could take away from the look of a natural wood.
Custom cabinets will also be pretty expensive and you may have to wait several days before your cabinets are built and ready to install. Unless your garage is a well insulated and climate controlled showroom, you may want to look elsewhere.
Built to order wood garage cabinets
Wood cabinets that are built to order offer a sort of hybrid between both of the other wood options and even the metal ones. Cabinets with a powder coat finish stand out in this category as an affordable option without sacrificing on features that will be important to you.
We use medium density fiberboard (MDF) to build our powder coated wood garage cabinets. MDF is strong, dense wood. It's overall mass will greatly contribute to the durability once it is given a single coat of powder finish.
The powder coat will make the cabinet resistant to stains, chemicals, water, scratches, dents, dings, bruises, and UV rays. The finish will protect the wood and can be pretty nice to look at as well, if the powder is applied correctly (that is…neat and smooth). Choose from a number of standard colors or match your cabinets to a current theme.
The combination of the tough finish and MDF allows us to produce garage cabinets that are comparable in strength, durability, and density to some metal brands. And with high quality hardware, durable drawer construction, and a variety of cabinet choices you can create a storage system that will last for years and still look good.
Overall advantages of wood
Wood cabinets with a powder coat finish are as good an option for a storage system as just about any of the metal cabinet brands. You get a wide range of standard and custom color options for the powder finish. Most wood garage cabinet manufacturers will be able to offer more cabinet choices as well. And depending on the type and number of cabinets you want, a wood system can be quite affordable.
Overall disadvantages of wood
A huge disadvantage for some wood cabinet brands is the lack of a protective finish. These systems will quickly show signs of wear and tear in workshops and garages that are not temperature controlled. Mass produced wood cabinets are especially vulnerable, in many cases due to poor drawer construction and cheap hardware.
Quick Assessment
Metal garage cabinets are a good fit for you if you:
Have a good sized budget for a storage solution
Do not mind having limited color choices
Only need a few cabinet options anyway
Want something durable and strong
Can handle a few scratches (particularly with aluminum)
Wood garage cabinets are a good fit for you if you:
Want more cabinet options
Need a larger variety of color choices
Do not intend to heavily use or abuse your cabinets (particularly with mass produced or custom)
Want a real or faux wood look
Want a storage solution with qualities comparable to metal but cheaper (built to order cabinets)